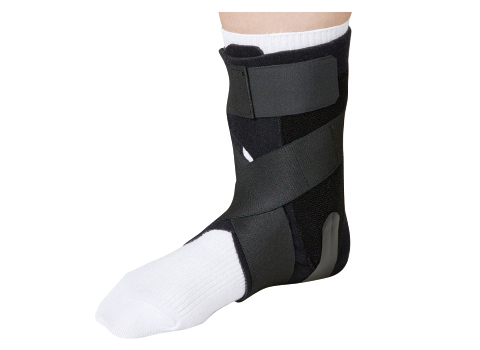 Braces & Supports
ANKLE BRACE
EXAID ANKLE FO
Principal use

Support for medial, lateral or anterior instability of ankle joint
Stabilize ankle after surgery

Product features

●Moderate support with adjustable guard
●Open-front design provides excellent fit and accurate support regardless of foot shape.
●The FRTP(fiberglass reinforced thermoplastic) guard has been designed based on the average of anatomical data collected by the 3D measurements for each size to reduce discomfort.
●Planter section of the brace is made from STRAFLEX™, a thin breathable material.
●Strap across at the front of the ankle bone to form a figure 8, providing anterior, medial and lateral support based on figure 8 taping techniques.
●Heel strap enhances support by connecting to the FRTP guards on both sides.

Notes

* Choose the size based on your shoe size,
If the measurement falls between two sizes, choose the larger one.
Inquiry of this product or request for brochure
---
Right
| Item number | Size | Shoe size |
| --- | --- | --- |
| F452801 | S | 19-22 cm |
| F452802 | M | 22-25 cm |
| F452803 | L | 25-28 cm |
| F452804 | XL | 28-31 cm |
Left
| Item number | Size | Shoe size |
| --- | --- | --- |
| F452811 | S | 19-22 cm |
| F452812 | M | 22-25 cm |
| F452813 | L | 25-28 cm |
| F452814 | XL | 28-31 cm |