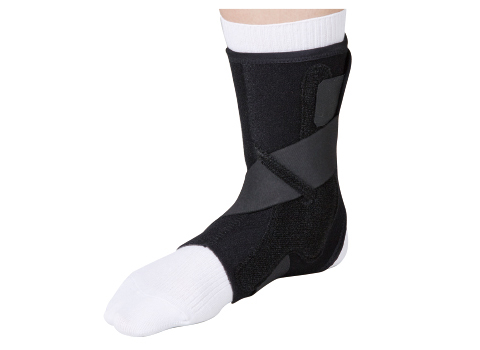 Braces & Supports
ANKLE BRACE
EXAID ANKLE 3
Principal use

Support for lateral ankle instability
<br>Stabilize ankle after surgery

Product features

●Moderate support for inversion
●Built-in original stay prevents inversion without obstructing natural everyday movement.
●Elastic strap enhances support power for ankle joint.
●Built-in pad attached at the medial ankle prevents friction with the stay.
●Reduced bulk by using thin, elastic STRAFLEX™ as the core material.
●Antimicrobial and odor-resistant finishing to the fabric to improve hygiene and make the brace more comfortable.
●Open-back design makes the brace easy to put on.

Notes

* Choose the size based on your shoe size,
If the measurement falls between two sizes, choose the larger one.
Inquiry of this product or request for brochure
---
Right
| Item number | Size | Shoe size |
| --- | --- | --- |
| F452301 | S | 19-22 cm |
| F452302 | M | 22-25 cm |
| F452303 | L | 25-28 cm |
| F452304 | XL | 28-31 cm |
Left
| Item number | Size | Shoe size |
| --- | --- | --- |
| F452311 | S | 19-22 cm |
| F452312 | M | 22-25 cm |
| F452313 | L | 25-28 cm |
| F452314 | XL | 28-31 cm |