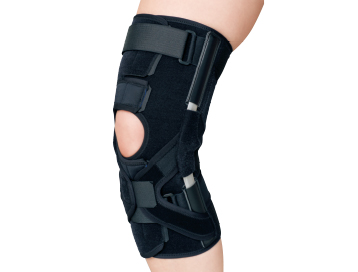 Braces & Supports
KNEE BRACE
EXAID KNEE ACL
Principal use

Restriction of anterior translation of tibia after ACL (Anterior Cruciate Ligament) injury

Product features

●Knee stabilization for ACL
●Aluminum offset joints improve lateral stability.
●Multi-function strap, fastening strap provides 4-point support which reduces anterior instability in the shin bone.
●Non-elastic tape inside the strap provides firm, constant support.
●The brace can be put on, taken off and adjusted easily at the front side without any need to reach around to the back of the knee.


Notes

* Measure the circumference of the thigh 10cm(4 inches) above the center of the kneecap. in a standing position.
If the measurement falls between two sizes, choose the larger one.
Inquiry of this product or request for brochure
---
| Item number | Size | Thigh Circumference |
| --- | --- | --- |
| F363101 | S | 34 - 39 cm |
| F363102 | M | 39 - 44 cm |
| F363103 | L | 44 - 50 cm |
| F363104 | XL | 50 - 56 cm |