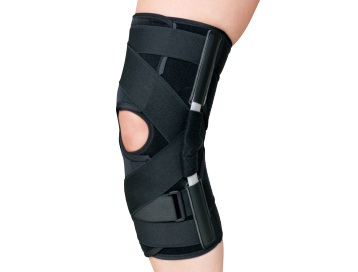 Braces & Supports
KNEE BRACE
EXAID KNEE MCL&LCL
Principal use

Restriction of lateral instability of knee joint after MCL (Medial Collateral Ligament) injury
Restriction of medial instability of knee joint after LCL (Lateral Collateral Ligament) injury

Product features

●Knee stabilization for MCL&LCL
●Aluminum offset joints improve lateral stability.
●Multi-function strap provides 3-point support which reduces medial(for MCL injuries) and lateral(for LCL injuries)instability.
●Non-elastic tape inside the strap provides firm, constant support.
●The brace can be put on, taken off and adjusted easily at the front side without any need to reach around to the back of the knee.

Notes

* Measure the circumference of the thigh 10cm(4 inches) above the center of the kneecap. in a standing position.
If the measurement falls between two sizes, choose the larger one.
Inquiry of this product or request for brochure
---
Right
| Item number | Size | Thigh Circumference |
| --- | --- | --- |
| F363001 | S | 34 - 39 cm |
| F363002 | M | 39 - 44 cm |
| F363003 | L | 44 - 50 cm |
| F363004 | XL | 50 - 56 cm |
Left
| Item number | Size | Thigh Circumference |
| --- | --- | --- |
| F363011 | S | 34 - 39 cm |
| F363012 | M | 39 - 44 cm |
| F363013 | L | 44 - 50 cm |
| F363014 | XL | 50 - 56 cm |