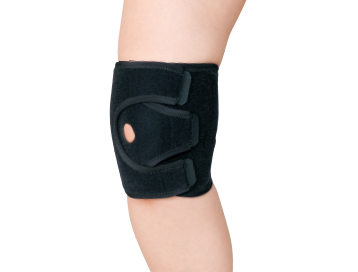 Braces & Supports
KNEE BRACE
EXAID KNEE Patella
Principal use

Restriction of lateral deviation of patella such as patellar subluxation and chondromalacia patella

Product features

●Patellar stabilization
●Active resin stays provides a secure fit without curling, twisting or bending.
●Build-in patella pad reduces lateral deviation of the kneecap.
●Patella pad does not come into contact with the skin, which prevents wear and tear.

Notes

* Measure the circumference of the thigh 10cm(4 inches) above the center of the kneecap. in a standing position.
If the measurement falls between two sizes, choose the larger one.
Inquiry of this product or request for brochure
---
| Item number | Size | Thigh Circumference |
| --- | --- | --- |
| F364001 | S | 34 - 39 cm |
| F364002 | M | 39 - 44 cm |
| F364003 | L | 44 - 50 cm |
| F364004 | XL | 50 - 56 cm |