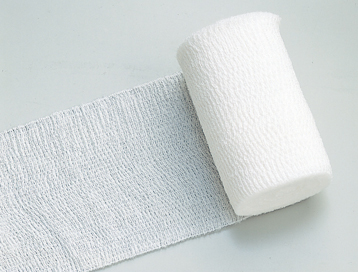 L-WHITE-S
Principal use

Securing gauze and poultices.
Protection of wound surfaces.

Product features

●The extension rate is approximately 300%.
●Highly stretchy fibers are used to allow the bandage to fit active joints well.
●Suitable as a dressing for everyday wounds.
●The woven texture provides an uneven surface that prevents slipping.
●Comfortable, breathable fabric with high moisture absorption.

Inquiry of this product or request for brochure
---
JAN code
Item number
Type
Specifications
(Width × Extension)
Qty. per box
4946452000327
032
2
5.0 cm × 9 m
10 Rolls
4946452000334
033
3
7.5 cm × 9 m
10 Rolls
4946452000341
034
4
9.0 cm × 9 m
10 Rolls