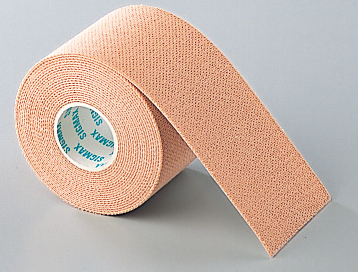 Bandages
ADHESIVE ELASTIC BANDAGE
BENESTORK
Principal use

Securing tubes such as catheters or drains.
Compression and stabilization after surgery, to stop bleeding, for puncture and rib fractures.
Restriction and stabilization of range of joint motion.
Taping for exercise.

Product features

●Hard-twist yarn is used as a thick base cloth.
●Suitable for compression and stabilization where high elasticity is required.
●Acrylic adhesive that is gentle to the skin is used.
●The adhesive is applied in stripes to improve breathability.
Inquiry of this product or request for brochure
---
JAN code
Item number
Type
Specifications
(Width × Actual length)
Qty. per box
4946452043027
4302
2
2.50 cm × 5 m
12 Rolls
4946452043034
4303
3
3.75 cm × 5 m
8 Rolls
4946452043041
4304
4
5.00 cm × 5 m
6 Rolls
4946452043058
4305
5
7.50 cm × 5 m
4 Rolls
4946452043065
4306
6
10.00 cm × 5 m
3 Rolls