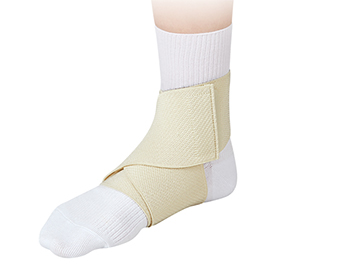 Braces & Supports
ANKLE BRACE
FACILIAID ANKLE
Principal use

Ankle joint support using figure 8 taping techniques

Product features

●Soft and elastic material made of antimicrobial finished fabric. Washable material.
●Using figure 8 taping techniques to compress and protect the ankle joint.
●The elastic material and Velcro fastener make the brace compatible with a wide range of ankle joint sizes.
●The end of the wrap is loop-shaped, allowing the brace to be easily wrapped around the ankle.

Notes

* Select a size based on the shoe size.
Inquiry of this product or request for brochure
---
| Item number | Size | Shoe size | Qty. per box |
| --- | --- | --- | --- |
| 302501 | Free | 20 - 27.5 cm | 5 Bags (1 pc per bag) |