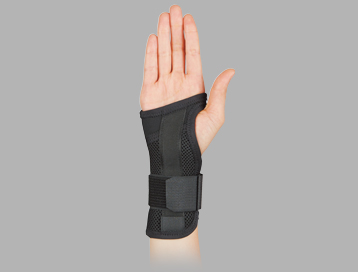 Braces & Supports
WRIST BRACE
FACILIAID WRIST
Principal use

Wrist support

Product features

●Aluminum stays positioned on the palm side and the back side of the hand stabilize the wrist.
●Both stays are removable, and the stays can be swapped over to allow the brace to be worn on either wrist.
●Easy to put on using one hand.
●Soft 3D mesh fabric fits well. Breathable and comfortable material.
●Aluminum stays have a rust preventing finish that allows the whole brace to be washed.

Notes

* Choose a size based on palm circumference. Measure the palm circumference around the base of the fingers, from the index finger to the little finger.
Inquiry of this product or request for brochure
---
| Item number | Size | Palm circumference * |
| --- | --- | --- |
| F303301 | S | 16 - 18 cm |
| F303302 | M | 18 - 20 cm |
| F303303 | L | 20 - 22 cm |