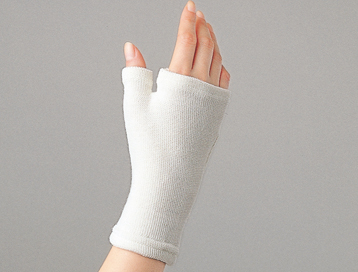 Braces & Supports
MEDICAL BRACE
WOOL SUPPORTS
Principal use

Joint compression and keeping joints warm

Product features

●Made of a blended wool fabric.
●Provides compression to joints and keeps them warm.
●Stretches in all directions to gently fit the affected area.
●Available for various uses.

Notes

* Contains latex rubber

* How to select the size
For the elbow, measure the circumference 10 cm above the center of the elbow.
For the knee, measure the circumference 12 cm above the center of the kneecap.
For the ankle, use shoe size as a guide.
Inquiry of this product or request for brochure
---
Item number
Type
Measurements *
Qty. per box
301301
Elbow S
20 - 25 cm
6 Bags (1 pc per bag)
301302
Elbow M / Knee S
23 - 30 cm
6 Bags (1 pc per bag)
301303
Elbow L / Knee M
30 - 40 cm
6 Bags (1 pc per bag)
301304
Knee L
40 - 50 cm
6 Bags (1 pc per bag)
301305
Knee M (Long)
30 - 40 cm
6 Bags (1 pc per bag)
301306
Palm
-
6 Bags (1 pc per bag)
301307
Wrist
17 - 23 cm
6 Bags (1 pc per bag)
301308
Ankle
(Shoe size) 23 - 27 cm
6 Bags (1 pc per bag)
301309
Shoulder M
(Chest circumference)
65 - 75 cm
3 Bags (1 pc per bag)
301310
Shoulder L
(Chest circumference)
75 - 95 cm
3 Bags (1 pc per bag)