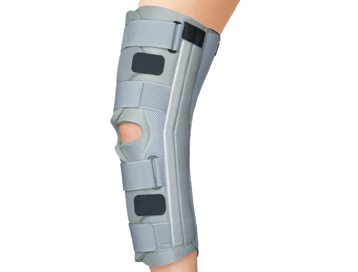 Braces & Supports
KNEE BRACE
KNEE SPLINT Flexion type
Principal use

Splinting for knee disorders, post knee joint surgery recovery and during rehabilitation.

Product features

●Knee splint that provides precise support.
●Stays on the back of the knee can be altered to suit the shape of the patient's leg.
●Both sides of the knee splint have two tubular pockets (stay covers).
●Position of the stay can be adjusted either the front or the back.
●Breathable material at the back of the knee splint decrease clamminess.
●Cushioning material is applied to the back of the knee to relieve the local pressure exerted by the stay at the back

Notes

* Select a size based on thigh circumference. Measure the circumference of the thigh 10 cm above the center of the kneecap.
Inquiry of this product or request for brochure
---
Item number
Size
Product Length
Thigh
Circumference / Length (cm)
Qty. per box
301101
S
48.5 cm
33-41 cm / 26 cm <
1
301102
M/L
48.5 cm
41-53 cm / 26 cm <
1
301112
Long M/L
52.0 cm
41-53 cm / 29 cm <
1
301114
Long LL
52.0 cm
53-65 cm / 26 cm <
1