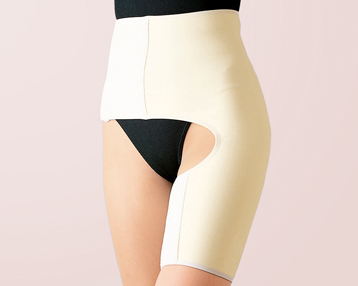 Braces & Supports
WAIST AND THIGH BRACE
HIP STABILIZER
Principal use

Compression of waist and thigh after artificial joint replacement or epidermization


Product features

●Two Velcro fasteners on the back and side of the thigh can be used to adjust compression.
●Comfortable, elastic, and well-fitting fabric with excellent absorption and moisture permeability.
●Can be used on either right or left leg.


Notes

* Select a size based on hip circumference, and use the thigh circumference as a guide.
Inquiry of this product or request for brochure
---
Item number
Size
Circumference (cm) *
Qty. per box
F17001
S
Hip: 60-75,
Thigh: 40-45
1
F17002
M
Hip: 75-90,
Thigh: 45-51
1
F17003
L
Hip: 90-110,
Thigh: 51-58
1
F17004
XL
Hip: 110-130,
Thigh: 58-65
1