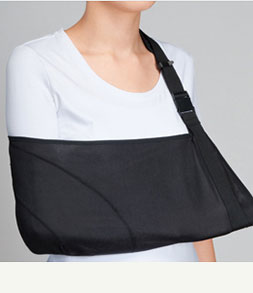 Splinting Products
ARM SLING
ARM SLING
Principal use

Holding and protection of upper limbs

Product features

●Easy to put on. Stably holds and secures the affected area.
●An adjustable pad prevents the shoulder strap from digging into the skin.
●Made with a thin breathable material for extra comfort.
●Designed to fit the elbow shape when wearing the sling.
●Can be worn on either arms.
●The elbow and wrist areas are reinforced with a dual structure and straps to reduce strain.
●A general use size and junior size are available.

Inquiry of this product or request for brochure
---
| Item number | Type | Forearm length |
| --- | --- | --- |
| F601901 | Adult | 20 - 30 cm |
| F601902 | Junior | - 20 cm |