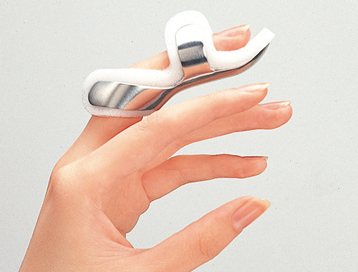 General medical devices
Generic name: splint
Medical devices notification number 13B2X00187000022
Splinting Products
SPLINTS
ALUMINUM SPLINTS
Principal use

Splinting for fractures and contusions

Product features

●Efficient splints made of a combination of aluminum alloy plates and urethane foam cushioning.
●Impact to the affected area is absorbed by the comfortable cushioning material.
●Suitable for small body parts such as fingers or arms.
●Available in 12 different shapes and sizes.
●Can be bent to fit the affected area. Provides secure protection and stabilization.

Inquiry of this product or request for brochure
---
| Item number | Type | Shape | Specifications (Depth×Width ×Length) | Qty. per box |
| --- | --- | --- | --- | --- |
| 5001 | 8A | Frog shape | 1.0 × 57 mm | 6 |
| 5002 | 8B | Frog shape | 1.0 × 57 mm | 6 |
| 5005 | 10A | Plate type | 1.5 × 13 × 197 mm | 12 |
| 5006 | 10B | Plate type | 1.5 × 13 × 400 mm | 6 |
| 5009 | 12A | Plate type | 1.5 × 13 × 197 mm | 12 |
| 5010 | 12B | Plate type | 1.5 × 13 × 197 mm | 6 |
| 5012 | 13B | Plate type | 1.5 × 13 × 197 mm | 6 |
| 5014 | 2B | Plate type | 1.5 × 13 × 197 mm | 6 |
| 5015 | 15 | Spoon shape | 1.0 × 20 × 40 mm | 12 |
| 5016 | 16 | Spoon shape | 1.0 × 20 × 40 mm | 12 |
| 5017 | 17 | Spoon shape | 1.0 × 20 × 40 mm | 6 |
| 5018 | 18 | Spoon shape | 1.0 × 20 × 40 mm | 6 |