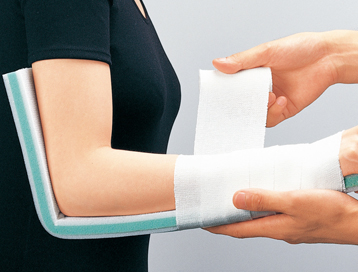 General medical devices
Generic name: splint
Medical devices notification number 13B2X00187000021
Splinting Products
SPLINTS
SOFT SPLINTS
Principal use

Splinting for fractures and sprains

Product features

●Can be bent where necessary.
●Made from galvanized iron wire covered with cushioning for a comfortable fit.
●No cover is required.
●Comfortable material with good moisture absorption is used where the splint touches the skin.
●Available in 8 different sizes to fit the affected area.

Inquiry of this product or request for brochure
---
| Item number | Type | Specifications (Width×Length) | Qty. per box |
| --- | --- | --- | --- |
| 5499 | 5S | 4.5 × 21.5 cm | 6 |
| 5500 | 4S | 4.5 × 32.0 cm | 6 |
| 5501 | 3S | 6.0 × 41.0 cm | 6 |
| 5502 | SS | 7.0 × 51.0 cm | 6 |
| 5503 | S | 8.0 × 63.0 cm | 6 |
| 5504 | M | 9.0 × 72.0 cm | 6 |
| 5505 | L | 10.0 × 83.0 cm | 6 |
| 5506 | LL | 12.0 × 113.0 cm | 6 |