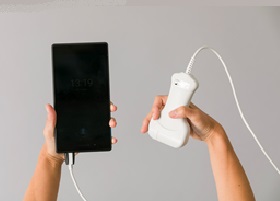 miruco
(Pocket-sized Ultrasound Imaging Device)
Principal use

Visualize the Inner Organ

Product features

●Pocket-sized ultrasound imaging device
●Compact device that slides into your white coat pocket.
●Portable design weighting only 460g.
●Tablet with 7 inch display that can be held in just one hand.
●Simple operation panel just to choose what to scan (Bladder, Lung, Shallow, Deep) and what is the body shape like.
●Up to 3 hours of continuous scanning with a single charge.
●Enables image captures anywhere i.e. clinical site, home care, etc.
●Share and receive clinical images via email under Wi-Fi connection, and/or to save to your PC via USB connection for your assessments.


Notes

●Standard Set
Tablet, Transducer, Cable, Battery Charger for Tablet, Ultrasound Gel
●Wi-Fi connection service is not included.
●Transducer designated for this tablet only.
Inquiry of this product or request for brochure
---
Product name
miruco<Convex Transducer>
miruco<Linear Transducer>